McDonald's 1979 Star Trek Happy Meal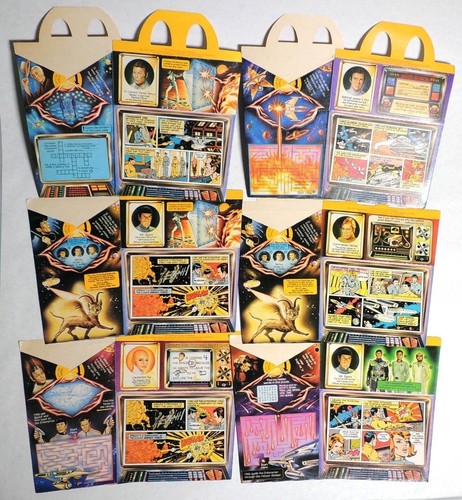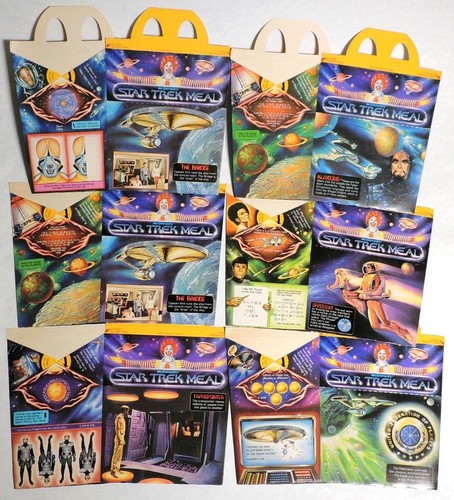 The First December McDonald's Happy Meal. It came in a box as seen above with a Comic, Puzzle, and cutouts on the boxes. It was served on: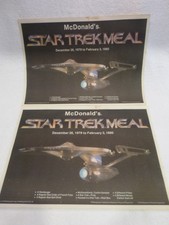 These place mats if you ate at the location. You had a chance at getting one of five toys:
Star Trek Rings: Snap-together plastic rings molded in a variety of colors. The square front of each ring featured a raised portrait which opened to reveal a tiny hidden compartment.
Star Trek Starfleet Game: A fold-out game made of thick paper with little punch-out Enterprise tokens. Pilot your Enterprise token out of Starfleet headquarters on a mission through the perils of space
Star Trek Double Glitter Iron-On Sheets: This little sheet of TMP related iron-on images
Star Trek Bracelet: Made of translucent plastic, this bracelet featured images of the crew and a shot of the Enterprise on the buckling mechanism.
Star Trek Video Communicator: Each Communicator consisted of a plastic housing with one of five comic strips inside. Feed the strip through the communicator to watch the story unfold inside the small viewing port.
The toys were made as a promotional tie in to the movie Star Trek The Motion Picture.