Mcdonald's 2018 Peter Rabbit
(It is a static image, clicking on it will not show how it works)
McDonald's released the Peter Rabbit toys to coincide with the movie that was released on February 9th in the USA.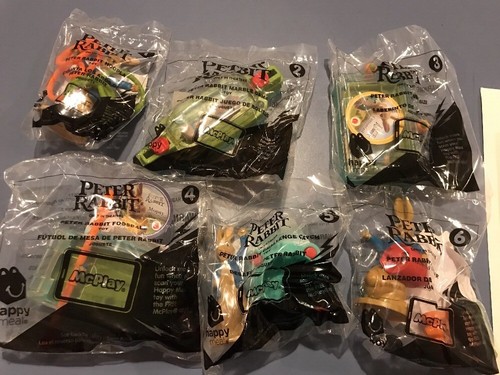 The toys have various functions.
Toy #1 is a ring toss game. You have 3 green rings and 3 orange rings to throw on to peter rabbit to catch.
Toy #2 is a miniature version of hungry hungry hippos
Toy #3 is a maze you press the carrots to get the ball back on track
Toy #4 is a soccer game where you launch the ball with one hand and move the rabbit to block it with the other hand
Toy #5 is game where you press the red button and when a person launches the rabbit they lose the game
Toy #6 launches carrots when you hit the button on the back of the figure and includes small targets to hit.
Happy meal box the toys came in